Established in 1752 (the 2nd year of the Horeki period), Daishichi Sake Brewery has always insisted on a strictly orthodox brewing tradition: the kimoto method. Daishichi's rich, mellow sakes are all outstanding examples of kimoto sake. Daishichi's history began when the Ohta family moved from the old Ise province to Nihonmatsu. The present head is the 10th generation. Daishichi's sakes come to life at a meal and form perfect pairings with fine food. Feted by world, they have opened a new chapter in the history of superb sake.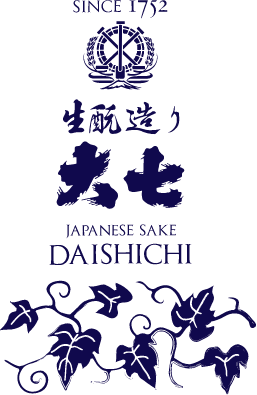 DAISHICHI SAKE BREWERY CO., LTD.
Representative: Hideharu Ohta(Tenth generation)
Master Brewer: Takanobu Sato
(Nanbu Master Brewer / "Contemporary Master Craftsman")
Representative Brand: Daishichi
Founding: 1752 (Horeki 2)
Address: 1-66 Takeda, Nihonmatsu City, Fukushima Prefecture, 964-0902
Tel: +81 243-23-0007
Fax: +81 243-23-0008
E-mail:info@daishichi.com
By public transport
Take the Tohoku Shinkansen to either Koriyama or Fukushima,
then transfer to the Tohoku Main Line for Nihonmatsu.
From Nihonmatsu Station it is 5 min by taxi.
By car
7 min from the Nihonmatsu I.C.