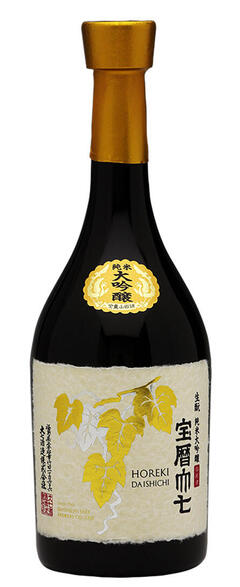 Determination to reach the summit
Crowned with the name of the year period of our foundation, this sake is the top-grade among our regular products. As a kimoto sake, it has for the first time in history attained the monumental achievement of twice winning the gold medal in the rare junmai class at the Japan Sake Awards (brewing years 2000 and 2002), as well as winning the gold medal at the Tohoku Sake Awards (brewing year 1997). But winning gold medals is not our ultimate aim. What our brewery expects from this sake is nothing less than to tug at the heartstrings of our customers by going beyond convention and breaking all bounds. Its noble and glamorous taste is different from any other sake. Because of its distinctive character it has been called "King of Sake," inspiring Kiyoshi Yoshizawa, former professor of the Tokyo University of Agriculture (and former head of the National Research Institute of Brewing), to call it "the greatest sake masterwork." We are strongly determined not to spare any effort in maintaining this top level.
Product Details
Rice | Yamada Nishiki
Rice polishing ratio | 50% superflat rice polishing
Ingredients | rice (domestic), koji (domestic rice)
Volume | 720ml
Alcohol content | 16 degrees
Recommended way to drink
Chill to 10-13 degrees C. Best served as an aperitif or as an after-dinner drink, it also goes wonderfully with dishes of understated flavor.
The wonderful marriage
of sake and food
"The raison d'etre of sake is to enhance the enjoyment of food" ‒ Daishichi's kimoto-brewed sake brings to mind this simple truth. When a delicious meal is set before you, you'll think, "Junmai Kimoto would be just perfect with this!" Or as you enjoy a sip of tasty sake, you'll find that your appetite is whetted: "This deserves to go with something really sumptuous. What shall we have?" Such thoughts spring to mind naturally from the intimate relationship of sake and food.
Daishichi is beyond any concern about "a sake that doesn't interfere with the food" and "food that doesn't interfere with the sake." There's no need to be constrained by such thoughts. Daishichi sake heightens your enjoyment of the flavors of food, and its own flavor is also brought out by good food. Here are some examples of food pairings with Daishichi sakes based on the above observations:
Appetizer
Main dish
○Foie gras saute with truffles
○Beef simmered in red wine
○Bisque from lobster (with thick soup)
○Abalone steak with liver sauce
Dessert
Other representative sakes