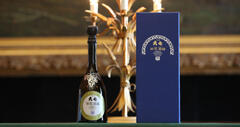 Challenge to the highest peak
On the eve of the new millennium, we adopted the firm decision to create a sake that would surpass all other sakes, by once again starting at square one and reassessing what such a supreme sake should be. We aimed at nothing less than a truly magnificent sake that would be able to take its place among the great beverage brands of the world. This was the beginning of our "Magnificent Sake Project."
For us such a "Supreme Sake" had to be a sake that during dinner generates a deep emotion and great feeling of satisfaction. It should have great depth and bloom, so that one would never tire of drinking it. While being delicate, it should also hide enough power to easily handle the main dish in which the chef has poured his soul. And in order to obtain the right maturity and a natural taste superior to everything else, it should be a high quality sake able to undergo maturation. We were convinced that this would only be possible with the kimoto method.
The path we choose to arrive at such a "Magnificent Sake," was to introduce more of the power of Nature into it. We wanted to express concentrated natural richness and strength in one cup of sake. As we makers were already exerting ourselves at the peak of our ability, we concluded that this could only be done by calling on the power of Nature, which in its complexity and profundity transcends human knowledge.
In order to bring out all the latent power of the rice, we opted for the fussy method of "sorting the individual grains." Rather than just milling down the rice, our main theme was how to best make use of the rice. Of course the polishing method could be nothing else than the superflat rice polishing technique. There is simply no other polishing method that succeeds in removing the bran uniformly. To isolate the whole grains from the broken and discolored grains, we over and over repeated our sorting task.
The yeast, which had survived the severe natural selection of the kimoto method, drove a powerful fermentation in the ginjo mash, which was kept for a long time at a low temperature.
On the day of the pressing, we found a wonderfully transparent, large and tight "bud." We foresaw that this new-born sake could go much further and reach a higher peak than ever before. This is the story of the birth of our ultimate sake "Myoka Rangyoku." We promise that we at Daishichi will only adorn sake that has reached the same high level with the crown of this appellation.
Product Details
Rice | Yamada Nishiki
Rice polishing ratio | 50% superflat rice polishing
Ingredients | rice (domestic), koji (domestic rice)
Volume | 720ml
Alcohol content | 16 degrees
Recommended way to drink
Pour about 1/3 into a large glass and swirl it gently. In the glass the sake awakens from its sleep, and gradually loosens. Enjoy the complex scent and the strong and dense taste. Cool it to about 10 to 13 degrees and use it as the best sake to drink during dinner.
The wonderful marriage
of sake and food
"The raison d'etre of sake is to enhance the enjoyment of food" ‒ Daishichi's kimoto-brewed sake brings to mind this simple truth. When a delicious meal is set before you, you'll think, "Junmai Kimoto would be just perfect with this!" Or as you enjoy a sip of tasty sake, you'll find that your appetite is whetted: "This deserves to go with something really sumptuous. What shall we have?" Such thoughts spring to mind naturally from the intimate relationship of sake and food.
Daishichi is beyond any concern about "a sake that doesn't interfere with the food" and "food that doesn't interfere with the sake." There's no need to be constrained by such thoughts. Daishichi sake heightens your enjoyment of the flavors of food, and its own flavor is also brought out by good food. Here are some examples of food pairings with Daishichi sakes based on the above observations:
Appetizer
Main dish
○Lobster à la vapeur in orange sabayon sauce
○Sea bass in baked pie wrap
○Bresse chicken filled with foie gras containing truffles
○Iberian pork saute
Dessert
Other representative sakes