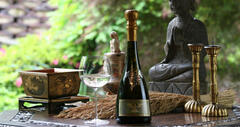 Beyond the top
The success of "Myoka Rangyoku" inspired us to start another quest.
These are the various fine qualities superior sake displays in the process of maturing slowly for more than ten years: when still young, a gorgeous aroma, during maturity, a powerful and round body, followed by a clear and serene aftertaste that lingers for a long time. We wanted to bring those elements, which normally are not simultaneously present, together in one bottle of sake.
We have managed to create Myoka Rangyoku Grande Cuvée by carefully blending multiple select vintages – dating from the last century until today – from among our precious stock of the highest quality free run drops and undiluted junmai daiginjo made with the kimoto method. When merging those different vintages stemming from a period of about twenty years, they fused into a superb harmony, as if springing forth into new life. That is "Myoka Rangyoku Grande Cuvée," our highest peak, which has been bathed in glory at various important events, such as being selected as the sake for the toast at the dinner of the spouses at the G8 Summit.
Product Details
Rice | Yamada Nishiki
Rice polishing ratio | 50% superflat rice polishing
Ingredients | rice (domestic), koji (domestic rice)
Volume | 750ml
Alcohol content | 16 degrees
Recommended way to drink
Pour about 1/3 into a large glass and swirl it gently. In the glass the sake awakens from its sleep, and gradually loosens. Enjoy the complex scent and the strong and dense taste. Cool it to about 10 to 13 degrees and use it as the best sake to drink during dinner.
The wonderful marriage
of sake and food
"The raison d'etre of sake is to enhance the enjoyment of food" ‒ Daishichi's kimoto-brewed sake brings to mind this simple truth. When a delicious meal is set before you, you'll think, "Junmai Kimoto would be just perfect with this!" Or as you enjoy a sip of tasty sake, you'll find that your appetite is whetted: "This deserves to go with something really sumptuous. What shall we have?" Such thoughts spring to mind naturally from the intimate relationship of sake and food.
Daishichi is beyond any concern about "a sake that doesn't interfere with the food" and "food that doesn't interfere with the sake." There's no need to be constrained by such thoughts. Daishichi sake heightens your enjoyment of the flavors of food, and its own flavor is also brought out by good food. Here are some examples of food pairings with Daishichi sakes based on the above observations:
Appetizer
Main dish
○Sea bream in sauce of sake-kasu
○Crab grilled in the shell
○Lobster and turnips
in zabaglione sauce
○Stew of wild boar,
in Bordelaise sauce with mushrooms
Dessert
Other representative sakes