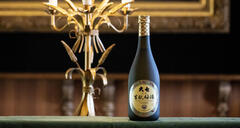 Superb plum liqueur
We aspired to create a superior plum liqueur (umeshu) different from all existing plum liqueurs. That was the ultimate ambition leading to the creation of Daishichi's first liqueur, Kimoto Umeshu. In order to secure a constant, ample supply of high-quality Japanese plums (ume), we opted for large Nanko plums from the major plum growing area in Wakayama prefecture. Instead of the distilled liquor generally in use, we decided to make our liqueur with sake – and that sake of course had to be kimoto sake. After neutrally testing various types of sake, we selected stock of Junmai Kimoto, the epitome of umami. This umami gently envelops the sourness of the plums, creating a mellow harmony, and making it unnecessary to use a lot of sugar. As soon as it was released, Kimoto Umeshu swept up first prizes in several liqueur competitions, and was instantly adopted by restaurants with Michelin stars around the world.
Product Details
Ingredients | Nanko ume plums from Wakayama prefecture (size 3L), sake (undiluted junmai kimoto sake), sugar
Volume | 720ml
Alcohol content | 12 degrees
Recommended way to drink
Serve as an aperitif, or enjoy after meals with dessert. Chill to about 10 degrees C.
Achievements / Awards
★★ Gold award at the "13 Feminalise Wine Concours"
★★ First place for 4 consecutive years at the tasting competition "Japanese liqueur." The Japanese liqueur ("Wa-liqueur") competition, organized by the Japan Prestige Sake Association, centers on plum liqueur. Daishichi's Kimoto Umeshu won this contest with great distance for four years in a row. It received high praise for its "tremendous balance," and was called "exceptional" and "superb." It unquestionably proved to possess the highest quality in Japan.
★★ In 2008, platinum award in the category "Liqueur recommended to women" at the "Great Jizake Show"
★★ In 2009, platinum award in the category "Authentic liqueur recommended to connoisseurs" at the "Great Jizake Show"
★★ In 2010, platinum award in the category "The very liqueur recommended to women" at the "Great Jizake Show"
◎ With three platinum awards, Kimoto Umeshu entered the Hall of Fame
The wonderful marriage
of sake and food
"The raison d'etre of sake is to enhance the enjoyment of food" ‒ Daishichi's kimoto-brewed sake brings to mind this simple truth. When a delicious meal is set before you, you'll think, "Junmai Kimoto would be just perfect with this!" Or as you enjoy a sip of tasty sake, you'll find that your appetite is whetted: "This deserves to go with something really sumptuous. What shall we have?" Such thoughts spring to mind naturally from the intimate relationship of sake and food.
Daishichi is beyond any concern about "a sake that doesn't interfere with the food" and "food that doesn't interfere with the sake." There's no need to be constrained by such thoughts. Daishichi sake heightens your enjoyment of the flavors of food, and its own flavor is also brought out by good food. Here are some examples of food pairings with Daishichi sakes based on the above observations:
Appetizer
○Salad of raw ham
Main dish
○Sweet-and-sour pork with black rice vinegar
Dessert
○Pie with black cherries
○Camembert with plum liqueur gelée
Other representative sakes