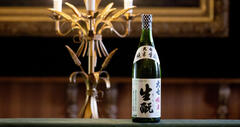 The eternal classic
Our Junmai Kimoto was first released more than 35 years ago, in 1983, at the time that thanks to the jizake boom finally sakes like ginjo and junmai were acknowledged by the market. However, our activities leading to Junmai Kimoto started already more than two decades before that, from about 1955. That was when the 8th Shichiuemon Ohta, who was then president, finally succeeded in restoring the kimoto method, which had sustained severe damage from the controlled economy during the war as well as the devastation after the war. From the mid-1950s, he took on the at that time unprecedented challenge to produce a junmai sake. But as there were limits to rice polishing and cooling equipment was not yet available, he found difficulties on his path that are today unimaginable. These were later solved by polishing the rice to a further degree and enabling low temperature fermentation by the use of cooling equipment. Our Junmai Kimoto came into existence thanks to many years of efforts by our ancestor.
Product Details
Rice | Gohyakumangoku
Rice polishing ratio | 69% superflat rice polishing
Ingredients | rice (domestic), koji (domestic rice)
Volume | 720ml
Alcohol content | 15 degrees
Recommended way to drink
Junmai Kimoto is best appreciated at room temperature, at around 15 degrees, or slightly warmer. If you prefer, it can also be gently heated. The hidden depths of this sake will complement any food, but particularly creamy dishes with a gentle richness.
Achievements / Awards
★★ In 2007, first place in the category "Sake to drink warm at leisure" at the "Great Jizake Show"
★★ In 2008, gold award in the category "Sake which is delicious hot" at the "Great Jizake Show"
★★ In 2009, platinum award in the category "Sake which fits osechi New Year dishes" at the "Great Jizake Show"
★★ In 2010, platinum award in the category "Hot sake to drink in summer" at the "Great Jizake Show"
★★ In 2011, platinum award in the category "Warm sake which fits sake appetizers" at the "Great Jizake Show"
◎ With three platinum awards, Junmai Kimoto entered the Hall of Fame
The wonderful marriage
of sake and food
"The raison d'etre of sake is to enhance the enjoyment of food" ‒ Daishichi's kimoto-brewed sake brings to mind this simple truth. When a delicious meal is set before you, you'll think, "Junmai Kimoto would be just perfect with this!" Or as you enjoy a sip of tasty sake, you'll find that your appetite is whetted: "This deserves to go with something really sumptuous. What shall we have?" Such thoughts spring to mind naturally from the intimate relationship of sake and food.
Daishichi is beyond any concern about "a sake that doesn't interfere with the food" and "food that doesn't interfere with the sake." There's no need to be constrained by such thoughts. Daishichi sake heightens your enjoyment of the flavors of food, and its own flavor is also brought out by good food. Here are some examples of food pairings with Daishichi sakes based on the above observations:
Appetizer
○Miso-grilled beef (hoba miso-yaki)
○Teriyaki of yellowtail (buri)
Main dish
○Yose-nabe hot pot
○Fried chicken kara-age-style
Dessert
Other representative sakes