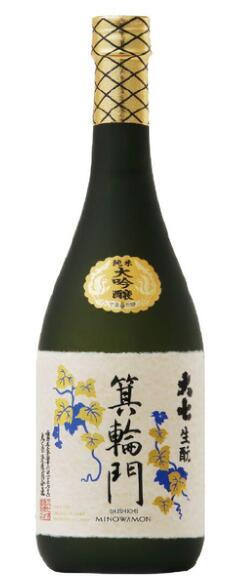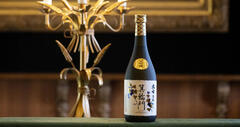 The first sake in Japan made with the superflat rice polishing method
"Daishichi Minowamon" is a junmai daiginjo made with the kimoto method, using Yamada Nishiki sake rice polished with the superflat rice polishing technique. We have succeeded in eliminating all off-flavors that in the past remained even in rice for daiginjo, and realized an unprecedented gentle, mellow texture of remarkable delicacy, and a natural, elegant aroma. The level of flat rice polishing we attained was such that the grains became transparent. This even surprised Mr Tomio Saito, the theorist of the flat rice polishing method, and made him exclaim: "This is my ideal rice polishing!" Based on that success, we have stopped using the conventional rice polishing method and now only use the superflat rice polishing method for all our products. Daishichi Minowamon has won gold medals in both the ginjo and junmai sections at the Tohoku Sake Awards. Abroad, it has earned the highest praise from world level professionals at the Vinexpo, the largest alcoholic beverage fair in the world held in France, as well as from top-class restaurants in New York.
Product Details
Rice | Yamada Nishiki
Rice polishing ratio | 50% superflat rice polishing
Ingredients | rice (domestic), koji (domestic rice)
Volume | 720ml
Alcohol content | 15 degrees
Recommended way to drink
Chill to 10-15 degrees C. The crisp, clean taste of Minowamon makes it the perfect accompaniment for kaiseki cuisine.
Achievements / Awards
★★ In a questionnaire survey among 140 sake specialists such as "Sake Sommeliers", "Sake Masters", "Shochu Advisors", etc., "Daishichi Minowamon" was selected as the best in the sake category [for 2 consecutive years]
★★ In 2009, platinum award in the category "Sake which fits to crab" at the "Great Jizake Show"
★★ In 2010, platinum award in the category "Sake which fits to ikura (salmon roe)" at the "Great Jizake Show"
★★ In 2011, platinum award in the category "Cold sake which fits to cheese" at the "Great Jizake Show"
◎ With three platinum awards, Minowamon entered the Hall of Fame
The wonderful marriage
of sake and food
"The raison d'etre of sake is to enhance the enjoyment of food" ‒ Daishichi's kimoto-brewed sake brings to mind this simple truth. When a delicious meal is set before you, you'll think, "Junmai Kimoto would be just perfect with this!" Or as you enjoy a sip of tasty sake, you'll find that your appetite is whetted: "This deserves to go with something really sumptuous. What shall we have?" Such thoughts spring to mind naturally from the intimate relationship of sake and food.
Daishichi is beyond any concern about "a sake that doesn't interfere with the food" and "food that doesn't interfere with the sake." There's no need to be constrained by such thoughts. Daishichi sake heightens your enjoyment of the flavors of food, and its own flavor is also brought out by good food. Here are some examples of food pairings with Daishichi sakes based on the above observations:
Appetizer
○Scallops and prawns à la meunière
○White asparagus in butter sauce
Main dish
○Roast duck
○Sushi with seasonal ingredients as uni, ikura and chutoro
Dessert
Other representative sakes